Welcome to Jülich's city archive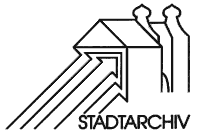 The city archive of Jülich documents 450 years of the history of Jülich with numerous historical documents, files, newspapers, photos and maps and plans. The written heritage of the municipal administrative activity has mainly been preserved since the big fire of 1547 when all older documents were destroyed. Among them, the annual accounts of the city and guest house (=hospital) since the 16th century and the council minutes since the middle of the 17th century are the most prominent documents. For later times, especially the comprehensive collection of local newspapers (since 1823) as well as the photo documentation from the time before the destruction of Jülich in November 1944 should be mentioned. Since the municipal restructuring 1972, the files of the previous offices of Kirchberg, Koslar and Stetternich are also part of the municipal archive stocks.

Address:
Stadtarchiv Jülich
Dr. Horst Dinstühler
Kleine Rurstraße 20
52428 Jülich
Phone: +49 (0)2461 936320
Fax: +49 (0)2461 - 936367
e-mail: archiv@juelich.de
Opening Hours
Tuesday: 2.00 - 6.00 p.m.
Wednesday: 3.00 - 6.00 p.m.
Ein großer Entwicklungsschritt

Im Krankenhaus Jülich läuft das Projekt "Auszubildende leiten eine Teilstation"

More

LAG: Aufruf zur Einreichung von "Kleinprojekten"

Frist endet am 21.03.2024

More

Langjähriger Dienst in Feierstunde gewürdigt

Dienstjubiläen, Eintritt in den Ruhestand und Ehrenzeichen der Feuerwehr

More

Stadtverwaltung Jülich wegen Personalversammlung geschlossen

13.12.2023, ab 13 Uhr

More

Fensterkalender erstrahlt auf dem Marktplatz

Stadtwerke Jülich ermöglichen wieder beliebte Aktion im Advent

More
---
All news